Gourmet Dishes and Fantastic Wine
Our delectable menus include modern takes on both Caribbean and internationally inspired cuisine, and fresh seafood dishes abound. Pair with a selection from our inspired wine list or one of our fine handcrafted cocktails.
Island Fresh Dining
Breakfast at the Fish Pot Restaurant is one of Barbados' best-kept secrets. Our menu features a range of delightful dishes to start the day: enjoy homemade breads and quiches, fresh tropical fruits and crunchy muesli, or indulge in one of our signature dishes such as grilled flying fish on olive ciabatta or a Fishy Affair, featuring smoked salmon, dill and caper scrambled eggs and garlic potatoes.
Join us for a seaside lunch paired with a rum punch served in a mason jar or glass of bubbles. The Fish Pot's lunch menu features lighter fare ideal for that midday break from the sun, as well as Kasmiri-style curries and stir-fries. Menu standouts include the seafood antipasti platter, marinated flying fish panini and grilled Caribbean lobster.
As the evening falls, start with a crisp glass of Chardonnay from Margaret River, followed by gourmet fusion fare crafted by our outstanding local chefs, and finish the evening with a delectable dessert and digestif.
Opening Hours
Breakfast Daily 8:00am to 10:00am
All Day Dining Daily 12:00pm - 9:00pm
BREAKFAST MENU LUNCH MENU DINNER MENU DESSERT MENU WINE LIST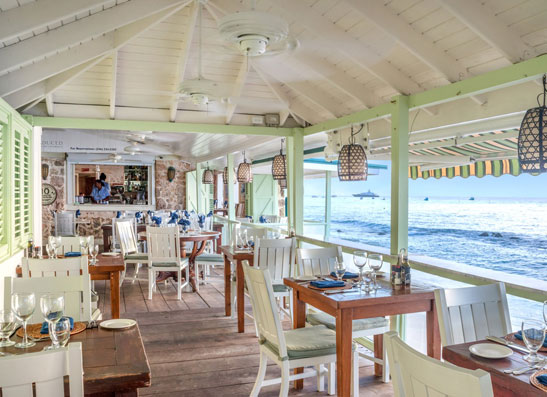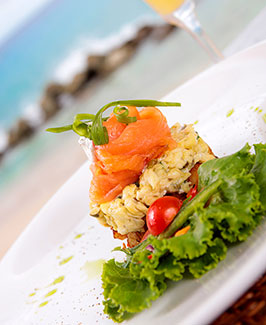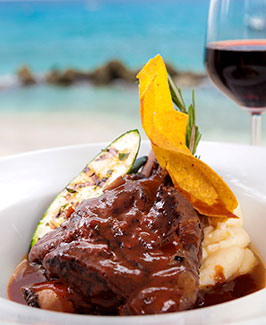 The Fish Pot Barbados Now Offers Gift Cards!
The Fish Pot Barbados now offers online Gift cards! Purchase gift cards for yourself or for someone else - they make the perfect gift! Give your friends, family and colleagues an unforgettable dining experience they'll truly enjoy and appreciate.
The Fish Pot eGift Cards are an easy and convenient way to send gifts. Ready to go, they are emailed directly - simply print it out or use it straight from a mobile device.
Redeemable at The Fish Pot Barbados and Little Good Harbour hotel!

"...an absolutely wonderful dining experience"
My husband, adult daughter and I had an absolutely wonderful dining experience here last evening. The food and service were excellent. It was lovely to have dinner with the sound of ocean waves in the background. We were in an alcove right on the beach! The dessert, cocoanut crumble, and also lemon pie were I think the best I've had anywhere. A very pleasant, casual atmosphere with top drawer food and service.
Elizabeth H - Canada
Thank you so much for a wonderful stay at Little Good Harbour. We simply enjoyed everything about our holiday from the moment you greeted us with a welcoming Rum Punch to the last delicicious lunch on the beach in the Fish Pot. You have built a wonderful business with care and attention to detail from the unfailing courtesy and 'can do' attitude of your staff to the beautiful local art and furnishings in the villas and gardens. Having never visited Barbados before we were so happy that we experienced you and the north of the island first. We will be back and we will have no hesitation about recommending you to everyone we know!
Chris & Sharon - United Kingdom
The Best restaurant on the Island! We visit Barbados every year and visit the Fishpot at least 6 times for dinner - it is a MUST! The food is really fabulous, the location is unbeatable and the staff are incredibly nice. The perfect spot for a relaxing evening - you will love it!!
Lynne and Adrian - United Kingdom
This small, low-key, relaxed and out of the way property lies on Barbados' sleepy north-west coast. It offers spacious, cottage-like suites equipped with full kitchens, and dining in The Fish Pot, a casual-chic beachfront restaurant that is one of the most appealing places to eat on the island.
Fred Mawer - The Telegraph UK - United Kingdom